PDAS
Glycan
Innovative Technology Support Group for Life Science and Drug Discovery
PC7-1

: 2D-LC (HILIC & WAX) Analysis using Enzyme array
시험소개
목적 당단백질에 결합된 전체 N-glycan에 대한 Exoglycosidase 처리에 의한 전체 당구조의 분석으로 HILIC 과 WAX 분석을 통해 목적 단백질에 결합된 Oligosaccharide의 함량을 분석하는 방법이다.
시험 대상
Biosimilar
Biobetter
Antibody
Antibody-drug conjugates
Recombinant protein drug
Toxin
vaccine
시험 방법
N-Glycan Release by
PNGase-F

2-AB derivatization

HILIC-UPLC
WAX-UPLC

Exoglycosydase

HILIC-UPLC
WAX-UPLC
시험결과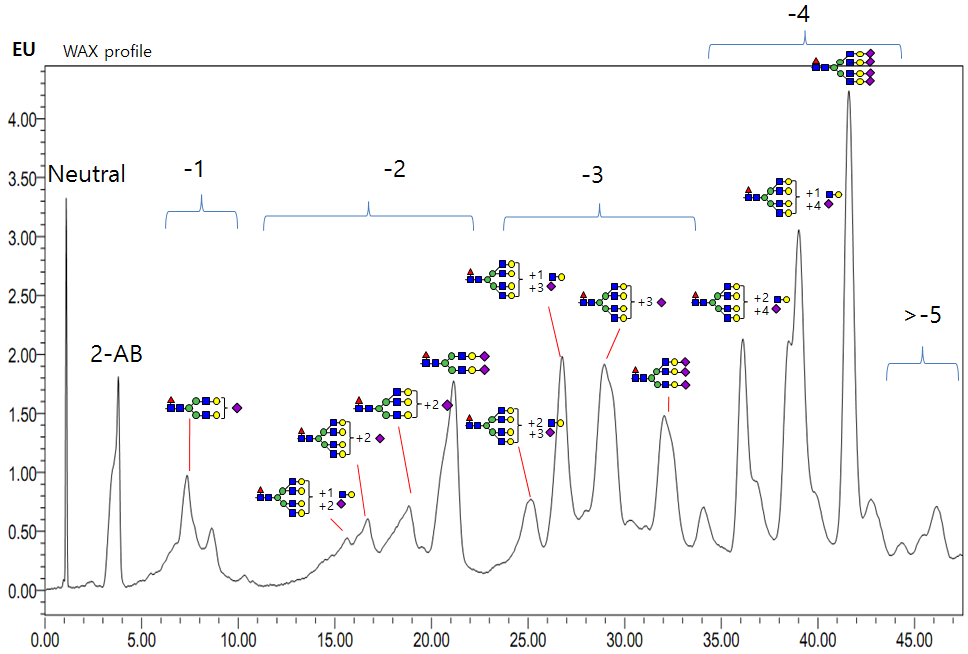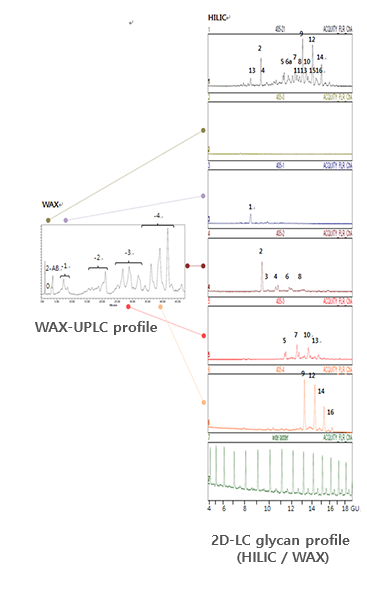 Peaka
GUb
%Totalc
Exoglycosidase digestionsd
Chargee
Namef
F
S
SG
SGN
14
15.04
7.4
-4
FA4G4Lac2S4
14-1
14.93
8.3
A4G4Lac2S4
14-2
12.54
16.2
FA4G4Lac2
14-3
9.28
15.3
FA4G2N2
14-4
4.80
100.0
FM3
aPeak number in Figures.
bGlucose unit. Average GU is used in the case of is omer peaks.
cAmount of gly can expressed as a percentage of the total glycans measured by HILIC, which is coverted to a relative value in whole identified peaks.
dF, α(1-2,3,4,6)-Fucosidase; S, Sialidase A;G,β(1-4,6)-Galactosidase;N,β-N-Acetylhexosaminidase.
edetermined by WAX.
fF, Fucose; A, antenna; G, galactose; Lac, lactosamine; S, sialic acid; M, mannose; N, N-acetylglucosamine.
Each number indicates the number of monosaccharide or disaccharide in the corresponding oligosaccharide.
So, FA4G4Lac2S4 represents core fucosylated, tetra-sialylated, galactosylated tetraantennary glycan with two lactosamine.
Symbolic representation proposed by Harvey et al (Proteomics 2009. 9:3796) is used for the report.
분석 상담 : 042-384-0702, 070-5014-5710